​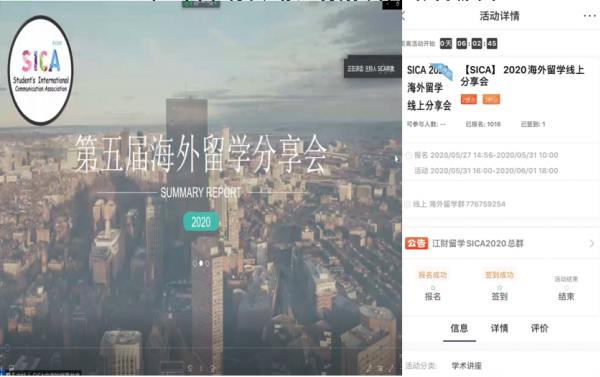 ​Powered by Tencent livestreaming (attendees capped at 300) and rebroadcasting, an online sharing session themed Weave a Dream Online—JUFE's Sharing & Consultation on Overseas Study was held by the Office of International Cooperation and Exchange (OICE) on the afternoon of May 31st. The session invited five overseas returnees to interact with 300 students and answer their questions based on their rich experience and two OICE members elaborated on the exchange programmes and the latest incentive policies. The sharing and presentation of the seven main speakers attracted over 1000 students.
He Cheng'en: My Three-year Overseas Study
He Cheng'en was the first speaker in the sharing session. He was admitted to the bachelor of CITF in the International School in 2015 and is now pursuing his postgraduate degree at the Imperial College, London. He shared his purposes for studying abroad and focused on how to choose institutions and majors based on his three-years of experience in the UK. Additionally, he mentioned that international students must be psychologically prepared for independent living and ready to step out of their comfort zone when pursuing further studies overseas.
Yin Chenhao: Share the "Story of China" in a Better Way in International Organizations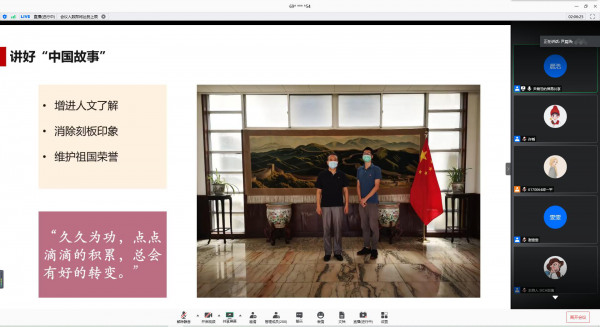 Yin Chenhao was matriculated as a Bachelor of International Finance in 2014. During his studies at JUFE, Yin had a chance to study at Audencia Business School, France funded by China Scholarship Council (CSC). Upon graduation from JUFE, he gained sponsor from CSC again to pursue his master's degree at the University of Illinois at Urbana-Champaign (UIUC). At present, he is interning at the United Nations Development Programme (UNDP). With a wealth of experience in state-funded project applications and international organization internship, he stressed the importance of making right choices for studying abroad and the right ways to view the internship. He also shared with JUFE students how to tell Chinese stories in an international organization from the aspects of enhancing people-to-people exchanges, being open and flexible in mind, and upholding the honor of the motherland.
Li Ruining: My Daily Life as an Exchange Student at the University of Oulu, Finland
Li Ruining enrolled at JUFE in 2017 as a CPA student and was sponsored by CSC to study at the University of Oulu, Finland. She specifically discussed her studies, exam preparation, food, accommodation, culture and daily life, rendering the realities of the life of an exchange student to the audience.
Xie Wenwen: Chinese Exchange Students under the Influence of COVID-19
Xie Wenwen was registered as a Bachelor of International Trade in 2017. Having achieved sound academic performance for two consecutive years, she was entitled to study at the University of Amsterdam in the Netherlands for the 2020 spring semester free of tuition. She shared with all her classmates about study and life in the pandemic phase. Moreover, she repeatedly expressed her sense of happiness and pride as a Chinese student when receiving care and concern from JUFE and health kits from the embassy.
Adam: The Value and Significance of Studying Abroad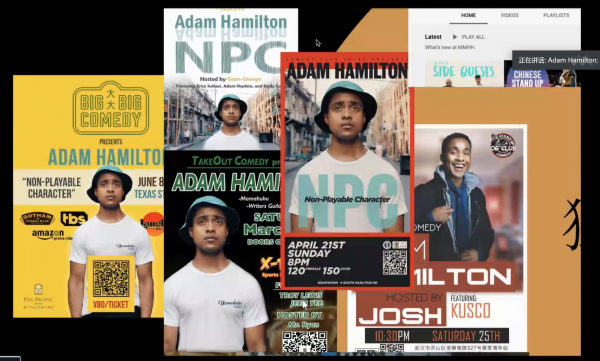 Adam Hamilton was the special guest of the sharing session. Although he is an American, he was deeply edified by the thought of Confucius and Mencius. He had studied at the University of Pennsylvania, US with a full scholarship and came to China to learn Chinese and Chinese culture after graduation. He shared his school life and his views on education and how he believes that family and education will change the lives of more people in the future.
Two OICE members, during the session, introduced JUFE's internationalization, exchange programmes, and incentive policies for studying abroad. The session was designed with quizzes to win awards and interactions, winning a big round of warm applause and laughter. At last, the OICE members suggested all speakers and participants turn on their cameras and they took group photos together, which marked the end of the session.
The annual field sharing session was unfortunately canceled because of COVID-19. However, OICE members decided to do it online. They devoted themselves to organizing live-streaming platforms, selecting speakers, and rehearsing, which made the sharing session a real success. It was through this session that students familiarized themselves with the latest information on studying abroad, had their doubts resolved, and had a chance to communicate with excellent overseas returnees.
Through organizing cultural exchange activities such as large-scale overseas study consultations, overseas study sharing sessions, exchange programme introductions, and pre-departure education, the OICE not only acts as a bridge that connects JUFE students and teachers with the world, but also offers them guidance, education on ideal and faith during cultural exchange.