​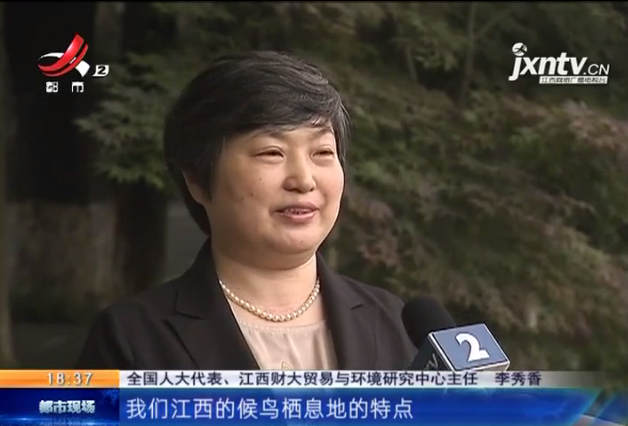 Li Xiuxiang: A bird-watching festival with international clout needs to be built in Poyang Lake Eco-economic Zone.
Recently, Professor Li Xiuxiang, a deputy to the National People's Congress and director of the Research Center of Trade and Environment, JUFE, was interviewed by JXTV-2.
Judging from her suggestion to build a state-level bird-watching festival in Poyang, we can tell she emphasized ecological protection during the interview. Poyang Lake, as one of the most exuberant and well-recognized spots in China, serves as a mirror that reflects the protection of ecology and biodiversity to the international community. As the largest wintering ground for migratory birds in Asia, with outstanding universal value, Poyang Lake is home to not only 11 species of first-level protected birds including white cranes and hooded cranes but also 66 species of second-level nationally protected birds such as cygnets and white-fronted geese. Li Xiuxiang believes that an ecological bird-watching festival could highlight the features of migratory bird habitats in Jiangxi. Different from the Bird-watching Week held in Jiangxi province in 2019, the Poyang Lake International Bird-watching Festival would not only offer people an opportunity to watch and photograph birds in ecological sheds, but more importantly, to build a series of supporting infrastructure for the festival and create a batch of cultural exhibitions, such as a Poyang Lake Wetland Ecological Film and Television Base, an Ecological Forum, etc. The establishment of an International Bird-watching Festival would arouse an increasing love and protection of birds among the Jiangxi people and would make for a shining pearl during the development of the province. Additionally, it could also attract worldwide attention to wetland resources through global publicity and attract both bird lovers and ecological experts to jointly help with the sustainable development of Poyang Lake.
Link: http://pc.yun.jxntv.cn/p/287072.html